You might be pondering about being a landscaper, what are the types of Landscapers and which one you should be; well, you are in the right place to know everything about it. Whatever your goal is in thinking about being one, always remember that no matter what you want to do, if you put your heart into it, plus your effort, you can achieve it!
As you continue reading the types of Landscapers, imagine yourself in the exact position as described and assess how you feel about it. You may be one of the best Landscapers in the making!
What is a landscaper, and what are the responsibilities?
A landscaper, often known as a landscape designer, is in charge of creating original outdoor places and collaborating with other landscaping specialists to make creative ideas into accessible public green spaces. Their responsibilities also include managing the installation of benches, fountains, fencing, walking routes, and planting and pruning shrubs.
People often misinterpret which is which and confuse the types of landscapers with gardeners and vice versa. There is a difference between the two. Even though they both focus on making the surroundings look the best, they specialize in different areas. While a landscaper concentrates on the landscape, such as patios, fences, and walkways, a gardener is more concerned with the health of individual plants.
To avoid confusion, these are the specific tasks that landscapers do from Indeed.
Landscaper Duties and Responsibilities:
Mowing, edging, and fertilizing lawns.
Weeding and mulching landscape beds.
Trimming small trees, hedges, and shrubs.
Removing unwanted, dead, or damaged trees.
Planting shrubs, flowers, and trees.
Watering gardens, lawns, and landscapes.
Monitoring and maintaining plant health.
See how the tasks of a landscaper may involve plants but are not precisely focused on them only. Instead, its goal is to maintain the area as a whole and make sure everything looks great.
Types of Landscapers?
Since there are different types of Landscapers, knowing about it is just as important as all the essential things you will need before you start your career. 
According to teamg7, there are four different types of Landscapers. See and try to imagine which one suits you the best. See where you can start and then, as you desire, little by little, work your way up.
As the types of Landscapers are explained, put your self in the descriptions and see how you feel about it.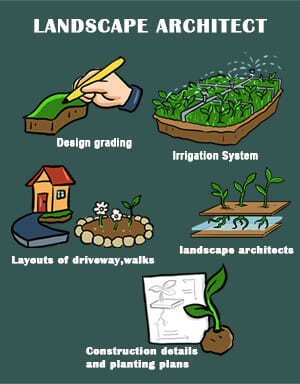 LANDSCAPE ARCHITECT
To design grading, irrigation systems, the layout of driveways, walks, and other hardscape features, as well as construction details and planting plans, landscape architects, receive instruction in both creative and technical skills. The landscape architect can either work for a design-build company that is set up and carry the plan through until completion or operates solely as a designer and adviser. 
LANDSCAPE DESIGNER
Just as varied as landscape architects are landscape designers, some are only permitted to create perennial gardens, while others are "unregistered." There are numerous in-betweens. Many landscape designers hold degrees in related disciplines, such as architecture, art, or ornamental horticulture. Most landscape architects are knowledgeable about plants and capable of laying out walks, driveways, patios, and essential drainage. While some heavy focus on design, others are paid on commission. Many garden stores or landscaping companies hire landscape designers. A landscape designer's skills can differ depending on background, education, and experience. It is usually best to visit previous projects and contact references if possible.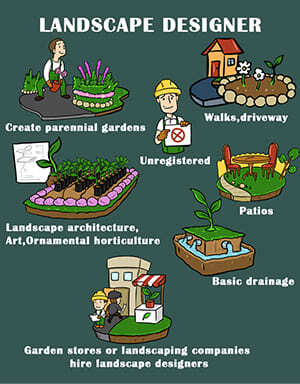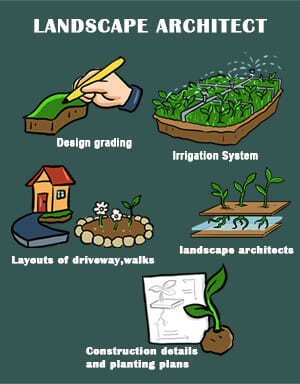 LANDSCAPE CONTRACTOR
A landscape contractor does the installation of the design. An architect or designer may occasionally supply specifications for a plan that a contractor will then install. In a design-build firm, a business will provide the project's installation plan, tools, and knowledge. Many companies have diverse installation specialties, including hardscape patios, native plant restoration, landscape lighting, container gardens, garden beds, and more. While some landscape firms subcontract out the installation of hardscapes like pathways and patios, others are capable of doing it themselves. Some people would stick to what they know most, such as planting design and installation.
Here, there needs to be a distinction for landscape contractors. Some create brand-new landscapes and repair existing ones, focusing on maintenance. There is a good reason why landscape design-build companies are typically more expensive than maintenance-focused businesses. For effective landscape design installation, their task necessitates various skills and tools. Installation and maintenance companies usually have separate crews for each job. The point is that the lawn-mowing person should not make your new landscape installation. 
LANDSCAPE "DESIGN-BUILD" FIRM
A "landscape-design-build firm" is a company that employs landscape architects and designers. You install the designs you develop with your clients. It is a commercial enterprise that carries out the construction, installation, and upkeep of gardens, patios, bushes, trees, and other related outside spaces that belong to your clients.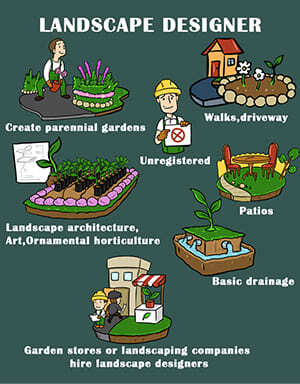 What should I do to be a landscaper?
Now that you know the types of Landscapers, I know you have a question roaming in your head. When this question comes to your mind, it means you maybe be a hundred percent sure or at least more than half sure you want to be a landscaper. The good thing is that everyone aspiring to be a landscaper is entirely welcome. But it is not that easy; we always have to start somewhere. So here are some steps to help you create your career as a landscaper.
Be physically fit – Being physically fit and healthy will always be an advantage, whatever job you may have. Being a landscaper is a physical job, and it requires a lot of body movements and involves heavy tools and equipment most of the time. Therefore, you must have a solid and healthy body to perform your job well. Everything is possible when you have a healthy body.
Acquire Skills and Knowledge – Learn the basics, and unlearn what you know if you have to. Landscaping is not that complicated if you can grasp the sense of it. Read, watch, attend pieces of training about it, enroll in vocational courses about landscaping, and apply for an apprenticeship. Study is not just landscaping but its purpose, elements, language and terms, and how it works in the field. And then, earn certificates engage with activities that will help you improve your skills, such as volunteering for gardening, etc. If your place requires licenses for landscapers, look the requirements up and see what you can do to have one.
Find your strength – As you try to build yourself to start your career as a landscaper, constantly assess your strengths and weaknesses. Do your best to improve your weak spots and showcase your strengths so your strong sides are evident. Even though landscaping is a general job, you must know where you are the best.
Put into practice everything you are learning – Try in the nearest place which can use a little landscaping, for example, your lawn or somewhere near you like your neighbors. And then, apply in physical what you are learning from all those training, courses, and all your other references. Find a way to practice what you learned; this will be an excellent avenue for you to enhance your skills.
Attitude – Since you are still in the stage of starting, do not lose the willingness to learn and accept corrections and constructive criticisms. Learn to take things objectively and make them a motivation to improve your work. Strive always to do better than how you did the last time. Remember to be a good communicator and a humble individual. Therefore, you need to be teachable and not tired of continuously learning.
Acquire as much experience you can for development – Aim for continuous growth as a landscaper. Do not stop, learning about the work, joining improvement training, knowing what you still do not know, and most of all, widening the variety of your experiences. Experience

is the best teacher, thus, try your best to gain more of it and do not cherry-pick your jobs. Trying to have more experience will always open new perspectives and will always teach you something you never knew before. Doesn't mean you reached a certain point, you stop acquiring new knowledge. 
How do I choose what type of Landscaper I should be?
First of all, do a self-check. Ask yourself, "What can I do with the level of skills and means I have now?". Is what you want achievable right now? Because you can't start a landscape firm if you do not know anything about landscaping and clearly if you don't have the money for it. But that doesn't mean you can not do that ever; it would be a worthy long-term goal as you become tenured in the industry. But the thing is, you must be able to start with whatever knowledge and means you have right now to start somewhere and work your way up as time goes by.
If you have no prior experience or basic knowledge about landscaping, you can always gain them. Try training and applying to landscaping firms and then be an apprentice, observe what expert landscapers do and how they work while you attend training and courses, and try to use it every chance you can, all at the same time. Meanwhile, when you get better and get absorbed as a regular employee, now is the opportunity to look up license requirements and gather certificates from pieces of training, maybe create a portfolio and build it up. Then one day, who knows, perhaps you can start your own business, a landscaping firm.
Everything you experience as you work to the top will never be in vain; everybody must start somewhere, but only those who are patient and hard reach the top.
How much should I charge for my services?
According to Fixr, the average charge of a landscaper is between $45 and $75 per hour. And here is a table from Fixr on the orders of various projects and their cost. There are massive projects, and there are small projects. It still boils down to what kind of service you will provide.
| | |
| --- | --- |
| Project | Cost |
| Pond | $9,000 |
| Build a Patio | $6,000 |
| Build a Retaining Wall | $5,460 |
| Landscaping | $10,000 |
| Lawn Fertilization | $400 |
| Lawn Seeding | $1,500 |
| Outdoor Lighting Installation | $3,000 |
| Rain Water Collection System Installation | $2,500 |
| Snow Removal Service | $125 |
| Stump Grinding | $200 |
| Tree removal | $435 |
How do I get clients as a Landscaper?
Maximize the internet and online platforms. This season, most of the businesses and services offered advertises and marketed online, and it's not surprising why they prosper. It is highly convenient and is not rocket science. You can start creating accounts and selling the services you provide with simple steps and a few clicks.
Do not be afraid or get easily intimidated by other businesses; remember you are still starting and always look that all you lack at the moment is a lot of room for you to improve. At first, it is normal to feel discouraged and intimidated by others. But if you start now, it is possible that someday you will be one of those people you adore. For now, do the following tips below to be able to acquire clients and keep your business moving.
You can do the following to be able to get clients :
Create a page – May it be an Instagram, Facebook, or even TikTok. Make an identity for your services and have a catchy name or title.
Join relevant groups – Pages where people look for landscapers and negotiate with clients.
Create a website for free – Aside from making it visually appealing, you can also insert here your previous works, portfolio, history, etc., so the customer can get to know you more.
Set up a Google My Business listing for free – Be discoverable by the nearest potential customer to you. Then, get all the leads and customers through this listing. 
Spread the word – Let people know that you offer services or have a business so they will learn to call you when they need something.
Post a HUGE poster outside your house – This step is helpful so that the people around your neighborhood will be aware of your business even if they do not know you personally. Include details such as contact number and specific services you provide.
After doing all of the mentioned things above, it does not stop there. It would help if you consistently responded to your potential customers' queries as quickly as possible. It would help if you made your page stand out among others and be more noticeable and unique so that you will get picked. You should have integrity and provide what the customers expect of you.
Make sure that when you have a client, provide everything in the best way possible. Make sure to give quality services and leave the customers satisfied. Always consider the customer's needs and wants and have integrity in serving them. This kind of service often leads to repeat customers and customer recommendations.
Importance of Landscaping
Landscaping is essential, but why and how does it help us connect with nature?
In-home
A well-planned green space with seating spaces, flowers, and trees can be quite calming and is a great spot to spend time relaxing or with family. But aside from the aesthetic perks, most importantly, it helps with the maintenance of the house. It gives control in managing storm drainage and runoff. Water should move away from your home when it rains. If it builds up around the base of your house, it can seriously harm your property and foster the growth of rot and mold. Proper home landscaping and maintenance save your property.
Public Parks
Nothing is more visually pleasing than a well-maintained public park. But aside from this physical benefit, landscaping offers a chance to maintain and save the environment. Growing green areas involves planting local plants, avoiding pesticides, and dealing with environmental issues.
Schools
Designing the landscaping for school hallways is essential. Aesthetics inspires children; their spirits lifts, their health is improved, their visual education is enhanced, and their sense of taste and creativity develops thanks to a wonderfully designed school.
Community
One of the simplest methods for your community to define its character is through landscaping. You judge a society by its physical looks, and landscaping dramatically influences it. A community with an incredible landscape is a gift for those living there. It will be safer regarding hazards, especially in walkways, etc. Landscaping gives the neighborhood its identity and makes it a much better community when its landscaping is well maintained.
Landscaping helps us in endless ways; it is not an easy job and takes a lot of skills and experience to provide the best services. They acquire skills and train to make most of the places well maintained, safe, and visually pleasing. Being a landscaper does not just take physical strength. It also requires mental strength. Thus, it is important for you to know the types of Landscapers and which type suits you the most at the moment.
You may deal with many things such as intimidation, discouragement, fear of the unknown, and worries if you can pull it off, given that there are many experts and demands in this industry. Mindset is your pilot step before everything follows. 
Now that you know types of Landscapers and their responsibilities, which type of Landscaper suits you best right now, how to be one, how to get clients, how much you should charge and etc. How was your self assessment so far?
Are you ready to jump-start your career as a landscaper? Well, whatever your answer is, may you prosper every step of the way!