PPC is an internet marketing strategy where your landscaping business pays a fee each time one of your adverts is clicked and gains visits. Essentially, PPC for landscapers is a method of purchasing visitors to your Website rather than trying to "win" those visitors naturally. One of the most often used types of PPC is search engine marketing. If a user searches for a keyword associated with your services, it enables you to compete for ad placement in the sponsored links of a search engine.
It would be best if you gave the search engine a nominal price for each time someone clicks your advertisement and directs a user to your Website. The cost is nothing compared to when PPC operates well because the visit is worth more than what you paid. To put it another way, if you spend $3 for a click and the click generates a $300 sale, then you have profited handsomely.
For instance, if you bid on the keyword "landscaping business in your city," your ad might be at the top of the Google search results (depends on optimization for high rankings). You are required to give the search engine a nominal fee each time one of your ads is clicked, directing a visitor to your Website. Then the magic happens, the little money you paid, say, $3, and your Website is well optimized for conversion, and you get the customer, see how your $3 turned into so much more? That is how pay-per-click works.
Here is a cycle to give you a much more non-complicated understanding of PPC for landscapers.
*Sebastians' better Illustration with Landscapers in Denton instead of Istanbul *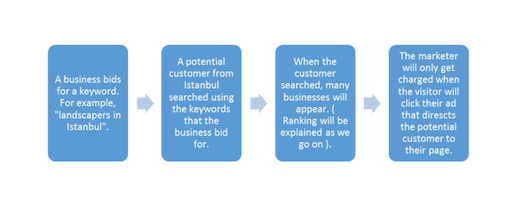 10 Landscaping PPC for Landscapers
You can sign up, but you have to continue reading so that you will know the formula. Here is what it means, do you think PPC will work well for your landscaping business if your Website is not optimized for conversion? Or how do you think your landscaping business will benefit if the Website is optimized only for conversion and not for searches?
All the tips, techniques, and instructions in this book complement and fill each other's shortcomings. Think of this book's contents as a "team" or a "body." When the left foot can't walk right, it will affect the whole body. When one does not function right, it affects the entire landscaping business.
How To Succeed In PPC for Landscapers?
Since keywords form the basis of pay-per-click campaigns, it makes sense that many advertisers are focused on the keywords. However, how those keywords are well-put together and structure is just as crucial.
Without efficient PPC administration, getting the most out of your PPC campaigns and adverts will be impossible. It is not sufficient to "set it and forget it." You must be ready to put in the effort necessary to manage your account. Fortunately, PPC administration doesn't have to take a lot of effort, but it's crucial to understand which aspects of your account require improvement and which will bring in the most money.
I will discuss the methods and tools you may employ to streamline and improve your landscaping business's PPC administration.
Keyword Research
Whether you're primarily using (PPC) or trying to boost your organic (SEO) results, keyword research is an essential marketing component. You must learn how to conduct keyword research if you want to market through search successfully.
To acquire a competitive advantage, continuously find excellent, focused new keyword opportunities. Continually and effectively put your keyword research to use. Make keyword research an integral part of your overall search marketing strategy so that the terms you discover will generate revenue for your landscaping company.
Free keyword research tools are in chapter 5. You can do keyword searches easily and for free.
Keyword Grouping
Strong top-level keyword groups often consist of one term, frequently a noun, and should be distinctive for your company. These terms often refer to your landscaping company's broader product or service offerings, such as "lawn fertilizing." or "lawn mowing."
There is some overlap between the terms "lawn" and "fertilizing," for instance, one of your best-performing keywords is "lawn fertilizing" Which phrase distinguishes things more? Which has a higher chance of being the offering?
The answer is "lawn"; while there may be many distinct inquiries containing the word "fertilizing," they are unlikely to be very pertinent to the services offered by a landscaping company. A top-level keyword group would be appropriate for "lawn" as one of your services.
Advertisement Text
Three things unify effective PPC advertisements:
Characteristics – As a landscaping business, your PPC ads should highlight what your landscaping business offers. It should showcase the services you provide and your specializations.
Advantages – Consider the age-old advice of salespeople attempting to make a deal with a prospect while describing the edges of your product or service: "What does it do for people? What benefits will clients receive from selecting your good or service?"
An instruction – I already discussed this in the previous chapters, call-to-action. Your PPC ad's call to action, which asks or orders the user to take a particular activity, like make a purchase or sign up for an offer, will change based on what you want your customers to do. Incorporate persuasion into your call to action (or CTA). For instance, employing the term "get" rather than "download" may increase conversion since "get" suggests emotional takeaway consumers want to "grab" something rather than "download" it.
Landing pages – I already tackled this one in chapter 5. Also, SEO landing pages are present to appeal to search engine algorithms, determining whether a page is worthwhile to users. People assume that optimizing landing pages is unnecessary because most marketing initiatives are brief.
Along with ensuring that these four aspects of your paid search campaigns adhere to best practices for PPC administration, you'll discover that developing systematic workflow priorities will make it easier to decide which parts of your account to concentrate upon most of the time.
Need help in administering PPC for your landscaping business? Visit our Website now! https://landscaperleads.net/